Automation and flexibility thanks to intelligent building automation
In modern buildings, there is a clear trend to automate functional processes and operating functions such as lighting and ventilation control or locking the automatic doors.
Increasingly, these systems are being interfaced to the central building automation system since they are very important for the safety and monitoring of the whole building. The range and complexity of the elements and associated functions which are connected to the building automation system is particularly high in modern buildings. Efficient building management can hardly be provided any more these days without a central control and monitoring system.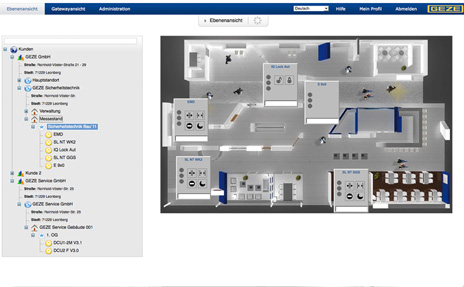 GEZE SecuLogic building system VAT 320
The SecuLogic Building System VAT 320 from DC GEZE is a building management system which satisfies increasing demands from planners, building operators and installation companies. It encompasses numerous control, monitoring and configuration tools with additional features for analysis, visualisation and data transfer. It doesn't only support building automation components from GEZE, products from other suppliers such as lighting and shading systems can also be interfaced to the GEZE software.
The remote control and remote maintenance tool GEZE WebCare 320 allows all elements connected to the VAT 320 to be configured, controlled and visualised. The analysis function ensures that error messages are automatically sent to the building operator, the facility manager or the person responsible for safety, making it possible to respond to faults or problems as quickly as possible. Logging of events simplifies error analysis. For example, it is easy to recognise at an early stage if the performance of a control motor is dropping. The analysis data is transferred to the service company, which allows service technicians to react before a hard fault has occurred.
The benefits of GEZE WebCare 320 at a glance
Intuitive to use – clear symbols for effective control
Simple and clearly structured – all main components of the system at a glance
Individually programmed and secure – custom web site with customer login
Can be accessed throughout Germany and even worldwide – simplifies central control
Short reaction times
Central control of the whole building
Faults and alarms can be directly transmitted to GEZE Service.
Modern buildings should be safe and comfortable to use and control and consume as little energy as possible. These requirements can be met with automation and intelligent networking of technical equipment. Building networking is considered the largest growth market in the construction industry.