Monitor your lifts. Lift notification and data access
LUTZ is a family business, responsible for planning and manufacturing innovative elevator installations since 1927. Other than lifts for buildings, they do also focus on creating solutions for ship lifts. Their services do also involve assemblage, reparation, and the modernization of lifts.
The Inside M2M developed a monitoring system for the LUTZ lifts. Each single lift installation is equipped with a LiNDA MonitoringDevice, which is connected via the GSM-Network to a central cloud server. With pc, tablet or smartphone and internet connection lift-data can be viewed via the web-based LiNDA Portal.
Monitoring Device
The MonitoringDevice connects with the Server by itself and the lift controller transmits the data to the LUTZ Portal. The system is very user-friendly. Normally the LUTZ MonitoringDevice will be online within a moment. The installation of the MonitoringDevice will be undertaken in 4 steps:
Attachment of the MonitoringDevice near to the lift controller (the GSM antenna can be oriented in all directions).
By use of the included power cord the MonitoringDevice will be connected to the 24-volt power supply.
Connection of the MonitoringDevice by use of the included serial cable with the lift controller
Setting of specific parameters at the controller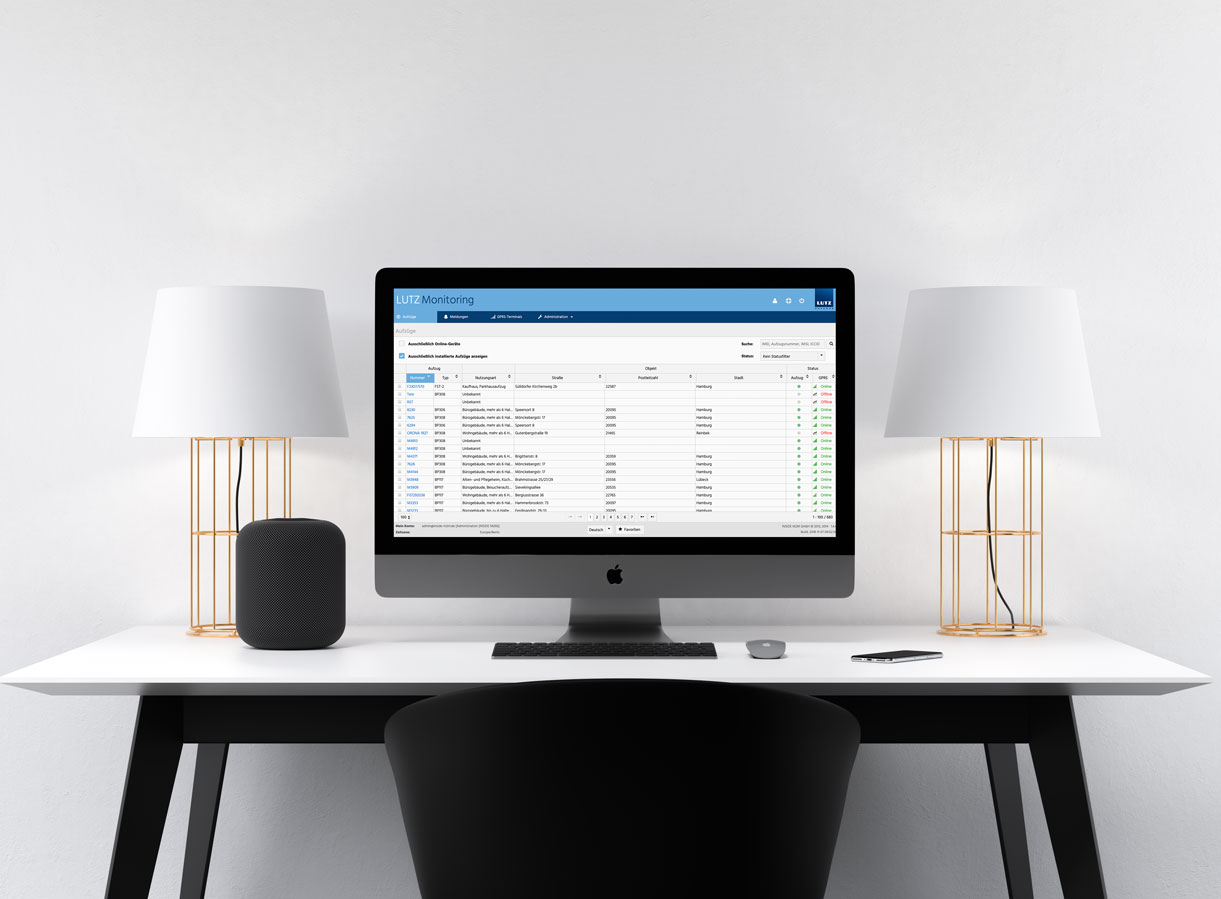 Portal
The LUTZ Portal is a web-based portal for the visualization and configuration of operating and master data of the lift installations. Each user only has access to the data of the lifts assigned to him and is able to monitor them remotely. While recognizing before defined alarm terms the server system dispatches e-mail notifications. Service staff members, who should be informed by the monitoring operator, can be freely defined.
Smartphone App
LUTZ also offers a mobile app for smartphones which makes the system especially user-friendly. With the app, for example, the service engineers are also informed on the way at any time about the status of the lifts assigned to them and have easy access to them. You can also set favorites, so one can see especially fast the status of elevators, you are particularly interested in (for example: newly installed lift systems or systems, a problem has been corrected recently). The service technicians responsible for maintenance will be informed via the mobile app with push messages and can initiate the necessary activities, even when they are not logged in in the LUTZ Portal.